Unkissed Kisses
LGBTQ+ Literature & the 150+ Year History of the University of Nebraska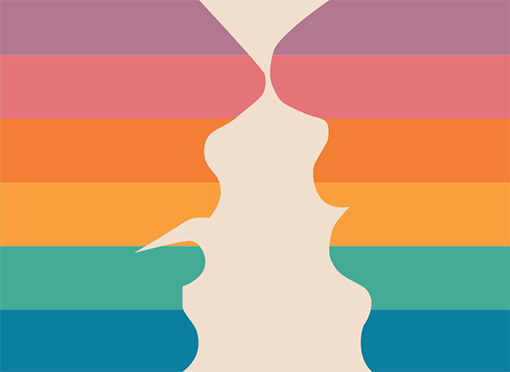 In 1970, the University of Nebraska became the first state University to offer a fully approved course in LGBTQ studies, a project initiated by gay scholar and activist Louis Crompton, a professor of English. This exhibit reaches even further back in the university's history, and further forward, to feature over a century of queer expression by poets, novelists, memoirists, and scholars. From Oscar Wilde's campus visit in 1882 to an acclaimed memoir by UNL English alum Precious Brady-Davis in 2021, UNL has long been a home and destination for queer literature and queer stories. While many of the stories being told with this exhibit are stories of bravery, beauty, and resilience, some are stories of fear, silence, and opposition. And in addition to the stories on display here, this exhibit recognizes all the voices that have been lost to history. And, we look forward to all the new voices, and to all the stories of the past still waiting to be told.
This exhibit is part of "50 Years of LGBTQ Studies at UNL," a yearlong celebration of the groundbreaking course, Proseminar in Homophile Studies, developed by English professor Louis Crompton. 
The title of this exhibit refers to a poem in Oscar Wilde's first collection, published in 1881, a year before he visited the University of Nebraska campus as part of his tour of the American West. Here's the concluding stanza of "Silentium Amoris":
But surely unto Thee mine eyes did show
Why I am silent, and my lute unstrung;
Else it were better we should part, and go,
Thou to some lips of sweeter melody,
And I to nurse the barren memory
Of unkissed kisses, and songs never sung.
Exhibit in October 2021 by Timothy Schaffert, Erin Colonna, Traci Robison, and Andrew Jewell
Archives & Special Collections, University of Nebraska Lincoln Libraries
"50 Years of LGBTQ Studies at UNL," a project of the Department of English; Zero Street Fiction, a new LGBTQ+ series of the University of Nebraska Press