Playing Through a Pandemic: Football, Flu, and the 1918 Nebraska Cornhuskers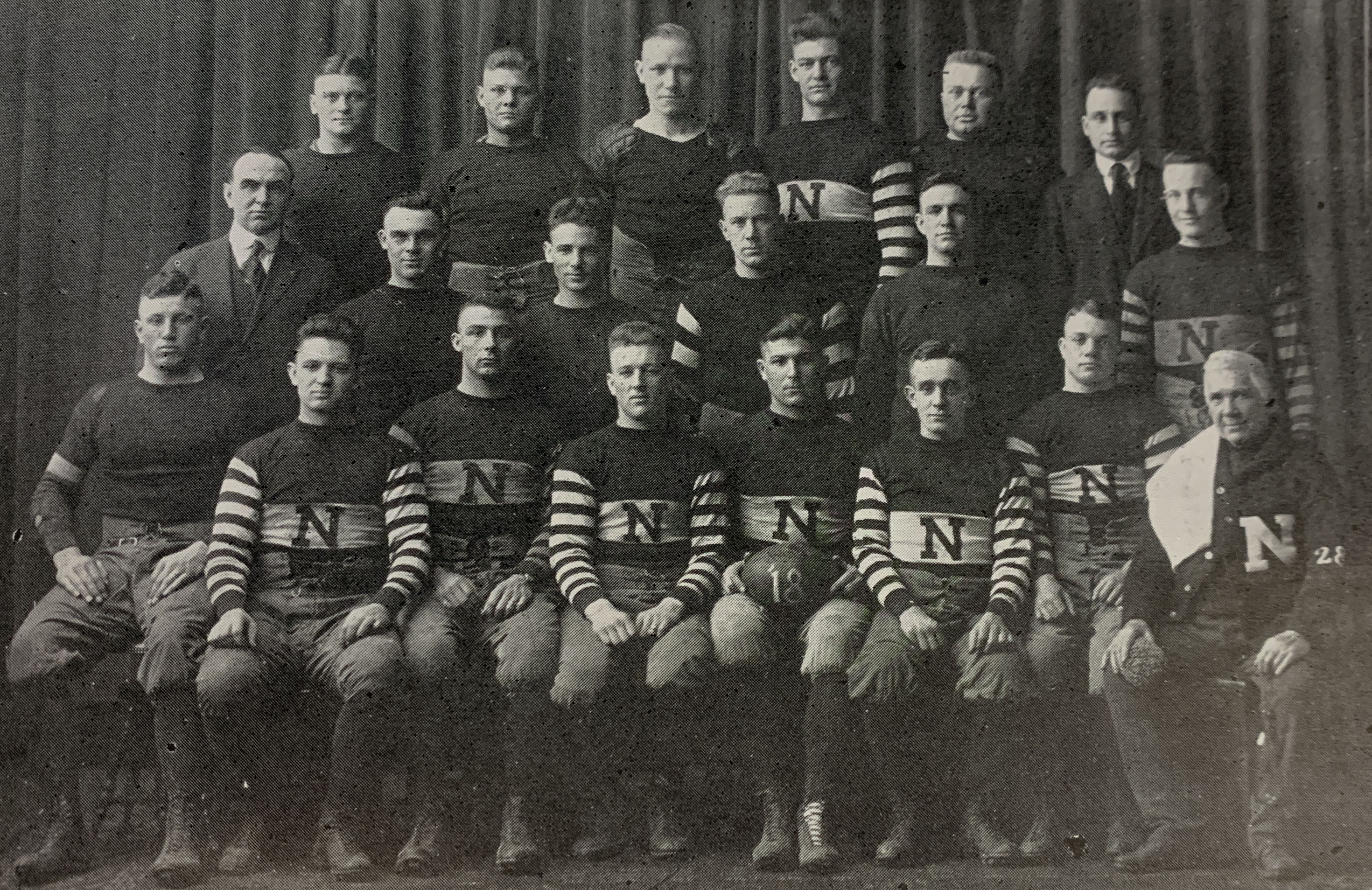 The 1918 football season at Nebraska was a hectic one. Chancellor Samuel Avery and many faculty members had taken service appointments during World War I, and many returning players were at military camps preparing to fight or had already been deployed to the front. In fact, one of Nebraska's captains, Roscoe Rhodes, was called to military service and was killed in action on October 25, 1918. Practically all remaining male students were in the Army or the Student Army Training Corps (SATC). They were housed in barracks, and the Army was in charge of their activities. Prior to his departure, Chancellor Avery asked Professor R.D. Scott to take over as acting Director of Athletics, and football coach E.J. "Doc" Stewart asked that W.G. Kline be appointed to serve as Head Coach during his absence. Kline asked that Paul Schissler be added as his assistant. This was the setup of athletics at the start of the 1918 season.
Nebraska had just three returning players for the 1918 season. Of course, other colleges and universities were dealing with similar disorganization. Athletics boards were dissolved, players and coaches were at war, and schedules were up in the air. The Cornhuskers put together a schedule that was likely to change from week to week. They would play whatever teams that could be picked up along the way. Some of those teams would be from military training groups and would be made up of elite players who happened to be stationed there. During the 1918 season Nebraska adhered to the rules of the Missouri Valley Conference, except for one; the rule that prohibited freshman students from participating in varsity athletics was lifted in light of the circumstances.
The presence of a world war would be enough for any team to handle, but there was another challenge happening at the same time. A new strain of the flu had been working its way throughout the world. The influenza pandemic of 1918, often referred to as the "Spanish Flu," had begun in the spring of 1918 and lasted until 1920. The new strain of flu infected some 500 million people across the globe and killed 20 to 50 million. Since this was a new strain of the virus, there was no immunity, and there wouldn't be a vaccine until the 1940s. The hundreds of thousands of soldiers traveling to war exacerbated the problem.
These were the circumstances this team was dealing with–many of them changing every week.
1918, Oct. 5: Nebraska vs. Iowa, Iowa wins 12-0
This game was the only "regularly" scheduled one for the season. Iowa came to Lincoln before the flu got a firm foothold. In front of a smaller than usual crowd, made up mostly of servicemen, they dominated Nebraska's largely inexperienced group. The Cornhuskers kept the game scoreless until the third quarter, when Iowa scored two touchdowns.
Meanwhile, Nebraska cities and towns began making plans to battle the flu. Nebraska had games with Syracuse, West Virginia, Missouri, Northwestern, and Camp Funston cancelled because of war time travel bans or the flu.

Ernest Hubka, Beatrice, NE: Team Captain, End, Tackle, 3rd year
Clarence Swanson, Wakefield, NE: End, 1st year
Elmer Schellenberg, Johnson, NE: HB, 3rd year
Emmet Ross, Superior, NE: Guard, 1st year 
1918, Nov. 9: Nebraska vs. Omaha Balloon School, NU wins 19-0
A month between games seemed to benefit the young Huskers as they handily beat the team fielded by the Omaha Balloon School. Captain Ernest Hubka and Elmer Schellenberg were the stars of the game for Nebraska. Headlines proclaimed that the World War was over.

Burch Reynolds, Madison, NE: Basketball player "conscripted" to play football, 1st year
Richard Newman, Columbus, NE: End, 1st year
Monte Munn, Lincoln, Fairbury, NE: younger brother of Wade Munn, 1st year
Wade Munn, Faribury, NE: G, older brother of Monte Munn, 2nd year
1918, Nov. 16: Nebraska vs. Kansas, NU wins 20-0
As the nation celebrated the end of the war, Nebraska won again in a muddy and slushy game against the Kansas Jayhawks. The Cornhuskers prevailed even after losing veterans Elmer Schellenberg and Harold McMahon to Officer Training. Young players Raymond Jobes, Harry Howarth, and Clarence Swanson emerged as key contributors. Jobes was the star of this game, complimented by Captain Hubka.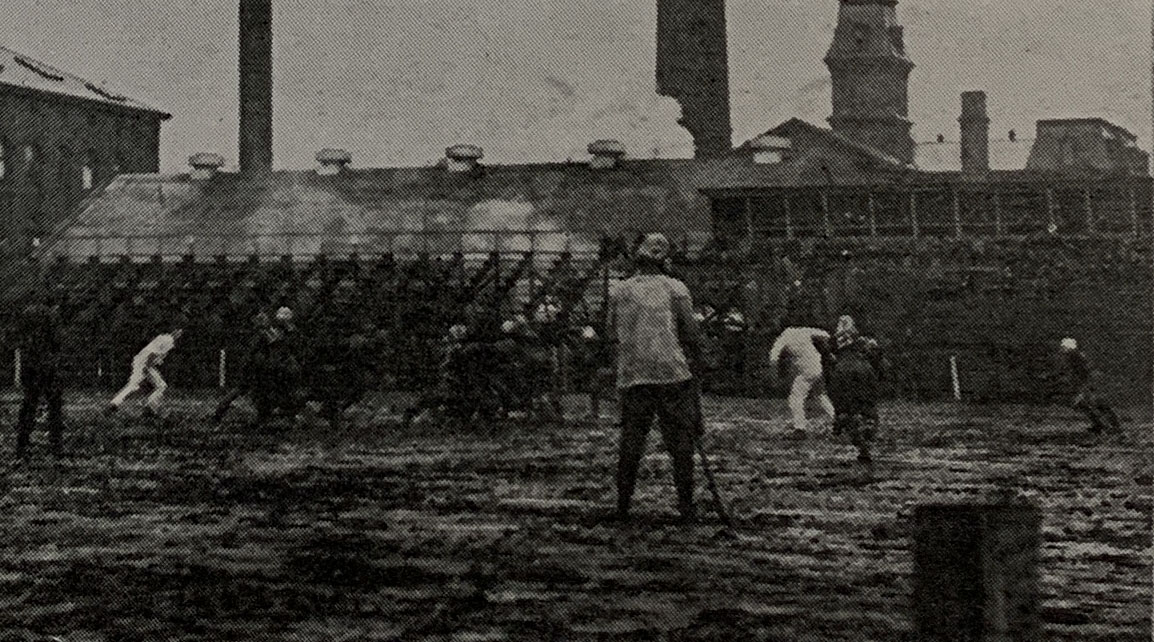 Harold McMahon, Lincoln, NE: HB, 3rd year
Roy Lyman, McDonald, KS: G, before Nebraska had never played football, 1st year
William Lantz, Ravenna, NE: HB, 1st year
Everett Lanphere, York, NE: 1st year
1918, Nov. 23: Nebraska vs. Camp Dodge, Camp Dodge wins 23-7
Nebraska battled the flu this week as well as the team of football veterans from Camp Dodge. The Camp Dodge team played well, and The Cornhuskers made too many mistakes, costing themselves multiple scores. One bright spot was Clarence Cypreanson's return from Officer Training. He arrived back in Lincoln that morning and was able to participate in the last part of the game.

Raymond Jobes, Tecumseh, NE: HB, 1st year
Edward Hoyt, McCook, NE: 1st year
Harry Howarth, West Point, NE: QB, 1st year
1918, Nov. 28: Nebraska vs. Notre Dame, tie 0-0.
In another snowy game, the Cornhuskers faced the legendary George Gipp and the Notre Dame Fighting Irish. The two teams battled back and forth, each getting within shadows of the other's goal line, but never making it across. Nebraska's Herbert Dana suffered a broken arm on the opening kickoff.
Sad and shocking news arrived from the war. The Husker team learned by letter that their teammate and former captain, Roscoe Rhodes, had been killed in action in France on October 25. Perhaps more shocking was that friends had recently received a letter from him dated October 12, stating that he should be relieved of his duties soon and would be home by Christmas. He wrote of being in better shape than ever before and that he would be ready for spring practice.
Not to be ignored, the flu had again made its presence felt on campus, prompting a short but clear article on the front page of the Daily Nebraskan. Students and the campus community were encouraged to take the situation seriously. The warning about the flu may have worked as this was a very small Thanksgiving Day crowd, especially for a game against Notre Dame.

Paul Dobson, Ulysses, NE: HB, one of Nebraska's best players (in the Navy for all but the last 2 games), 3rd year
Herbert Dana, Fremont, NE: G, 1st year
Clarence Cypreanson, Lincoln, NE: HB, 1st year
1918, Dec. 7: Nebraska vs. Washington University (St. Louis), Washington U wins 20-7
Nebraska suffered its final loss of the season in an exhibition game against Washington University. The team from St. Louis had three professional players on their team, so, despite the loss, Nebraska claimed the Missouri Valley Conference pennant for the season. Another important player was lost to injury during this game as Elmer Schellenberg went down in the second quarter, at the time the Cornhuskers possessed a 7-0 lead.
All in all, Nebraska went 2-3-1 on the season. Though they may not have been as successful as they liked, they exhibited the fortitude and grit the team has been associated with for decades. They played the cards they were dealt and adjusted to whatever challenges came up along the way.
Resources & Further Reading:
The Cornhusker. Lincoln, Neb.: University of Nebraska.
The Daily Nebraskan (chronological)
"Hawkeyes Invade Lincoln Saturday." October 4, 1918.
"Cornhuskers Have New War Tank." October 4, 1918.
"Spanish Influenza Under Control." October 4, 1918.
"Nebraska Goes Down to Defeat Before Veteran Hawkeyes." October 7, 1918.
"Saturday's Game to Be a Whizzer." November 8, 1918.
"Armistice Causes Gloom; Then Joy." November 8, 1918.
"Huskers Wallop Balloon School." November 11, 1918.
"Schelly Returns to Cornhuskers." November 15, 1918.
"Nebraska Ducks the Jayhawkers." November 18, 1918.
"Star Dodger Team Come Tomorrow." November 22, 1918.
"Horseshoes Win for Camp Dodge." November 25, 1918.
"Roscoe B. Rhodes Killed in Action." November 28, 1918.
"Nebraska vs. Notre Dame in Annual Gridiron Fray." November 28, 1918.
"Coach W.G. Kline, The Builder of Nebraska's War-Time Eleven." November 28, 1918.
"R.D. Scott, Director of 1918-19 Athletic Program." November 28, 1918.
"Influenza Menace Bobs up Once More." November 28, 1918.
"Hold Notre Dame to Scoreless Tie." December 2, 1918.
"Nebraska Loses to Piker Eleven." December 9, 1918.
"Freshmen Ban Replaced at Western Conference." December 9, 1918.
 The Omaha Daily Bee (chronological)
"City Takes Steps to Prevent Any Epidemic Here." October 5, 1918.
"University of Nebraska to Play Hawkeyes Today." October 5, 1918.
"Flu Epidemic Now Believed Under Control." October 6, 1918.
"Central Powers Ask Armistice and Peace." October 6, 1918.
"Hawkeyes Beat Cornhuskers at Lincoln, 12-0." October 6, 1918.
"Allies in Virtual Accord on Terms for Ending War." November 1, 1918.
"South Siders Will Attend Football Game at Lincoln." November 1, 1918.
"World War Over as Germany Surrenders." November 11, 1918.
"Cornhuskers Outplay Kansas from the Start." November 17, 1918.
"Cornhuskers Get Drubbing from Army Men." November 24, 1918.
"Nebraska Uni and Notre Dame Play Tie Game." November 29, 1918.
"Cornhuskers Beaten 20 to 7 by Washington." December 8, 1918.
Robert D. Scott, Papers (RG 12-10-10). Archives & Special Collections, University of Nebraska-Lincoln Libraries.
Credits
Exhibit created by Assistant Archivist, Pete Brink, October 2020.