Napoleon Bonaparte Letters
Archives & Special Collections houses two letters, or military requests, relating to Napoleon Bonaparte. Thanks to the help of Patrice Berger, former director, University Honors Program & professor emeritus of History and Laura Damuth, associate director, University Honors Program, we now have transcriptions of the original text in French, translation of the letters in English, and brief historical information about the letters.
A letter from the General of the Division Bons of the Army of the Orient requesting that Captain Charbond be promoted to the rank of Battalion Chief for his exemplary service in the Battle of the Pyramids in Egypt. Napoleon granted the request on 31 July 1798, with his full signature.
Brief History
In May of 1798 General Napoleon Bonaparte, the head of the French Army of the Orient, sailed to Egypt from Toulon, France.  The Directory, a five-member committee which governed France from 1795-1799, had agreed to support Napoleon's proposal to launch a military expedition in order to secure French trade interests in Egypt and Syria while at the same time threatening and destabilizing British access to India and the East Indies.
Napoleon and his army arrived in Alexandria, Egypt on the first of July after having first invaded and conquered Malta.  Bonaparte amassed 25,000 troops about nine miles from the pyramids of Giza, and engaged the Mamluks, the military force currently in Egypt, at the Battle of the Pyramids on the 21st of July, 1789.
This letter of commendation dated on July 31 from Division General Bon to Napoleon Bonaparte recommends a promotion for Captain Charbond to the rank of Battalion Chief for his exemplary service in the Battle of the Pyramids.  Notice that Napoleon still uses the Republican calendar dating of the 13 Thermidor.
31 Julliet 1798                                                             Org
an
M
taire
49
e
Pièce
Armé d'Orient
Division Bon
Artillerie
Notte du service du citoyen Charbond capitaine d'artillerie.
Le capitaine Charbond a fait sept campagnes dan l'armée et l'artillerie avec la plus grande distinction: il a presque toujours commandé l'artillerie d'une division; il reunite a une grande modestie les qualités et les connaissances qu'on peut desirer dans un excellent officier d'artillerie.  L'experience et les lumières qu'il s'est acquises dans son arme, le rendent supérieur (?) a son grade actual;  il a montré autant de bravoure  que d'activité et d'intelligence a la bataille des Pyramides.  Le général de division réclame pour lui le grade de chef de bataillon auquel paraissent l'appeller le suffrage de ses superieurs et de ses camarades.
Le Général de Division
Bon
Napoleon's marginalia:
Expediez.
Renvoyé a L'Etat Major pour le faire reconnaitre  comme chef de Bataillon, au Caire, le 13 Thermidor an 6.
Bonaparte
31 July 1798                                                                Military organization 49th item
Army of the Orient
Division Bon
Artillery
Note on the service of citizen Charbond, artillery captain
Captain Charbond has completed (made) 7 campaigns in the army and the artillery with great distinction.  He almost always commands the artillery of a division.  He combines with great modesty the qualities and knowledge that one wants in an excellent artillery officer.
The experience and the brilliance that he acquired in his armed forces is a performance above his actual rank.  He showed as much bravery as intelligence at the battle of the Pyramides.  The general of the division claims for him the rank of chef de bataillon, which appears to be supported by his superiors and his comrades.
Division General
Bon
Napoleon's marginalia:
Dispatch.
Sent to the high command in order for him to be recognized as a chef de Bataillon,  From Cairo, 13th Thermidor, year 6.
A letter from Marshal Louis Alexandre Berthier (1753-1815) the Prince of Wagram and Neufchâtel, Switzerland, to Napoleon Bonaparte, Emperor of the French and King of Italy, requesting a three-month sick leave for Lt. Koch in the Spanish Army. Napoleon granted the request on 3 September 1810 by signing his initials "NB."
Brief History
Letter from the Peninsular war in Spain (1810), by Laura Damuth
Marshal Louis Alexandre Berthier (1753-1815), 1st Prince de Wagram, 1st Duc de Valangin, and 1st Sovereign Prince of Neuchâtel, was a Marshal and Vice-Constable of France serving as Chief of Staff to Napoleon.  This letter, addressed to Napoleon, requests a 3-month sick leave for second Lieutenant Koch, who had been suffering from intermittent fevers. Napoleon grants the leave – a testament to the level of military detail that Napoleon dealt with on a daily basis.
Berthier came from a long line of military leaders. He was born at Versailles, served with Lafayette in the American Revolution, and during the French Revolution, as Chief of Staff of the Versailles National Guard, he protected the aunts of Louis XVI and aided their escape. He later joined the Republican army and accompanied Napoleon to Italy during his Italian campaign (1796); eventually he joined Napoleon in Egypt, and in November 1799 he assisted with Napoleon's coup d'etat in Paris on the 18 Brumaire. He was present at many of Napoleon's major battles: Marengo, Austerlitz, Jena, and Friedland.  In 1808, Berthier was serving in the Peninsular War in Spain, during which time this letter was written.
Berthier goes on to serve with Napoleon in Russia in 1812, Germany in 1813, and France in 1814.  When Napoleon was exiled to the island of Elba, Berthier turned down the opportunity to accompany him.  He, however, did serve the Bourbon monarchy when Louis XVIII, brother of Louis XVI, entered Paris.   When Napoleon returned to France after Elba, Berthier retired to Bamberg, Germany where he died a few weeks later on June 1, 1815 by falling out of an upstairs window.  It is unclear if this was suicide, an assassination, or an accident.
Major- général
Demande de congé                                                      Rapport
S.M. l'empereur et Roi
Paris, le 29 Aout, 1810
Sire,
Le minister de la guerre me transmet  une demande du Sieur Koch sous Lieutenant au 1er Regt de Prusse, à l'effet d'obtenir un congé pour la santé.
Le certificate ci-joint constate que depuis deux mois le Sieur Koch est attaint de fièvres intermitantes tierses, et que les traitements qu'il a suivi à Bilbao n'ont pas opére sa guerisson.
J'ai l'honneur de proposer a votre majesté d'accorder a cet officier un congé de convalescence de trois mois pour faire usage des eaux thermales qui lui sont ordonnier.
Le prince de Wagram et de Neuchâtel,
Major général,
Alexander (Berthier)
Napoleon marginalia:
Accordé
S. Cloud le 3 7bre 1810
NB
Major General                                                                          Report
Request for Leave  
To his majesty, Emperor and King
Paris, the 29thof August 1810
The War minister has sent me a request by Monsieur Koch, second lieutenant in the first Prussian regiment in order to obtain a leave for his health.
The attached reveals that for two months, Monsieur Koch has had intermittent fevers, and that the treatments that he followed in Bilbao did not yield a cure.
I have the honor to propose to your majesty to grant this officer a convalescent leave for three months to make use of thermal waters, which were prescribed for him.
The Prince of Wagram and of Neuchâtel,
Major General,
Alexander (Berthier)
Napoleon's marginalia:
Granted, Saint Cloud, le 3 September 1810
Napoleon Bonaparte, Selected Books from Archives & Special Collections
DC205 .D97 1797. Some account of the early years of Buonaparte at the military school of Brienne, and his conduct at the commencement of the French Revolution / by Mr. C. H., one of his school-fellows . C. H., Mr London: printed for the author, 1797
DC225 .C84 1798. Copies of original letters from the army of General Bonaparte in Egypt : intercepted by the fleet under the command of Admiral Lord Nelson, with an English translation. London : Printed for J. Wright, 1798-1800 (S. Gosnell)
DC220.3.N68 1798. Notice historique pour et contre les descentes qui ont été faites dans les isles britanniques, depuis Guillaume-le-Conquérant jusqu'`a nos jours. Avec une carte enluminée, gravée d'apr`es P.F. Tardieu . Tardieu, Pierre François, 1711-1774 Sur le Pas-de-Calais, 1798
DC202.5 .L48 1799. Lettre d'un Français au général Buonaparte . Paris, [s.n.], 1799
J82 .P25 v.6 no.6. The identity of Napoleon and Antechrist; completely demonstrated; or, a commentary on the chapters of the scripture which relate to Antechrist: where all the passages are shown to apply to Napoleon in the most striking manner; and where especially the prophetic number 666, is found in his name, with perfect exactness, in two different manners . New-York : [Ezra Sargeant?], 180
J82 .P25 v.8 no.3. De Buonaparte, des Bourbons, et de la nécessité de se rallier a nos princes légitimes, pour le bonheur de la France et celui de l'Europe . Chateaubriand, François-René, vicomte de, 1768-1848 Paris, Libraires Associés, 1814
J82 .P25 v.12 no.9. Ode to Napoleon Bonaparte / by Lord Byron. Byron, George Gordon Byron, Baron, 1788-1824 Philadelphia, Pub. by Edward Earle, 1814
 DC235 .P84 1814cx

.

A narrative of the campaign in Russia, during the year 1812

/ by Sir Robert Ker Porter. Porter, Robert Ker, Sir, 1777-1842 London : Longman, Hurst, Rees, Orme, and Brown, 1814

DC203.4 .C6 1815. The life of Napoleon, a Hudibrastic poem in fifteen cantos / by Doctor Syntax [pseud.] embellished with thirty engravings by G. Cruikshank . Combe, William, 1742-1823 Cruikshank, George, 1792-1878, illus London, T. Tegg, W. Allason; Edinburgh, J. Dick, 1815
C242 .B78 1816, The second usurpation of Buonaparte; or, A history of the causes, progress and termination of the revolution in France in 1815: particularly comprising a minute and circumstantial account of the ever-memorable victory of Waterloo. To which are added appendices, containing the official bulletins of this glorious and decisive battle / by Edmund Boyce … Assisted by original and important communications from British and Prussian officers. With accurate maps, plans, &c. Boyce, Edmund London, S. Leigh, 1816 
DC235 .P92 1816

.

Narrative of an embassy to Warsaw and Wilna, with personal attendance on the emperor Napoleon, during the disastrous campaign in Russia, and the retreat from Moscow

/ By M. de Pradt . Pradt, M. de (Dominique Georges Frédéric), 1759-1837 London, Printed for Sherwood, Neely, and Jones, 1816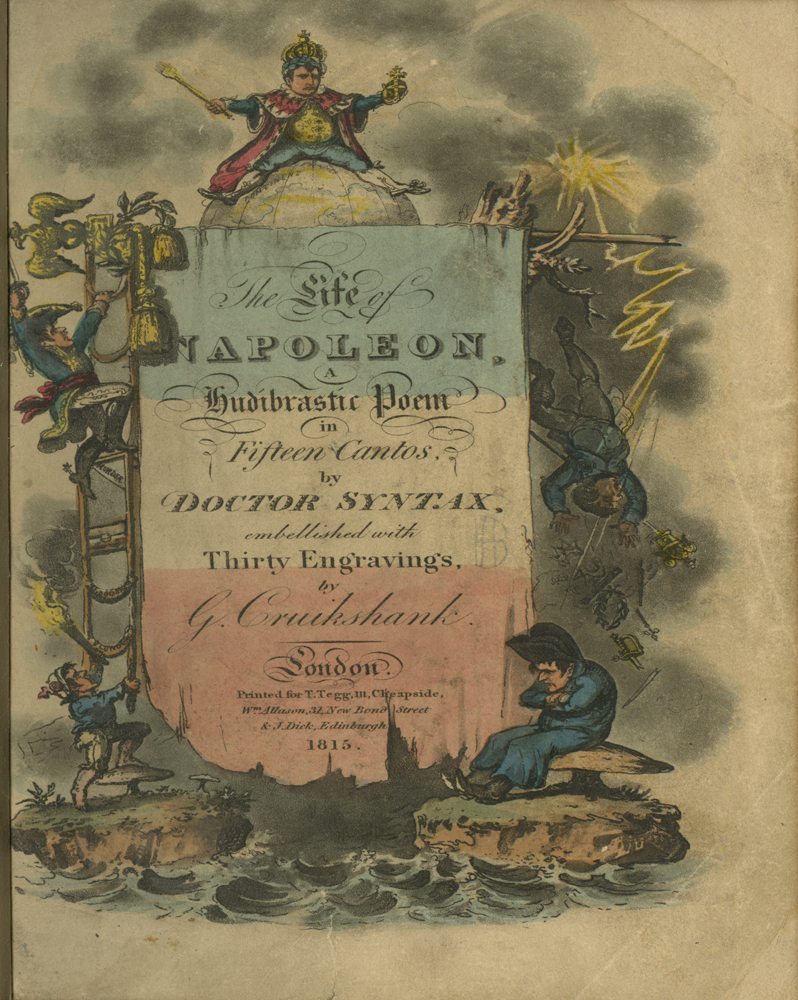 DC26 .S4 1816x. Paul's letters to his kinsfolk . Scott, Walter, 1771-1832 Edinburgh, Printed by J. Ballantyne for A. Constable; London, Longman, Hurst, Rees, Orme, and Brown, and J. Murray, 1816.
DC211 .W24 1816. Letters written on board His Majesty's ship the Northumberland, and at Saint Helena; in which the conduct and conversations of Napolean Buonaparte, and his suite, during the voyage and the first months of his residence in that island, are faithfully described and related . Warden, William, 1777-1849 London, Published for the author, by R. Ackermann, 1816
DC216.6 .B68 1818. Memoirs of the private and political life of Lucien Bonaparte, prince of Canino / tr. from the French. London, H. Colburn, 1818
DC239 .G71 1818. The campaign of MDCCCXV; or, A narrative of the military operations which took place in France and Belgium during the hundred days / Written at St. Helena by General Gourgaud. Illustrated with a map of the principal theatre of the war. Gourgaud, Gaspard, Baron, 1783-1852 London, J. Ridgway, 1818
DC239 .F6 1819. Mémoires pour servir à l'histoire de la vie privée, du retour, et de règne de Napoléon en 1815 . Fleury de Chaboulon, Pierre Alexandre Édouard, baron, 1779-1835 London, J. Murray, 1819-1820
DC211 .O564 1822. Napoleon in exile, or, A voice from St. Helena : the opinions and reflections of Napoleon on the most important events of his life and government in his own words / by Barry E. O'Meara. O'Meara, Barry Edward, 1786-1836 Napoleon I, Emperor of the French, 1769-1821 London : Printed for W. Simpkin and R. Marshall, 1822.
DC198 .R21 1823. Mémoires du général Rapp, aide-de-camp de Napoléon / écrits par lui-même, et pub. par sa famille . Rapp, Jean, comte, 1772-1821 Londres, H. Colburn et cie, 1823.
DC212 .A62 1825. Derniers momens de Napoléon, ou, Complément du Mémorial de Ste-Hélène / par le docteur F. Antommarchi. Antommarchi, Francesco, 1780-1838 Bruxelles : H. Tarlier, 1825.
DC236.3 .F2 1825. Manuscrit de mil huit cent treize, contenant le précis des événemens de cette année, pour servir à l'histoire de l'empereur Napoléon / par le baron Fain. Fain, Agathon-Jean-François, baron, 1778-1837 Paris, Delaunay, 1825
DC211 .M25 1826. Narrative of the surrender of Buonaparte and of his residence on board H.M.S. Bellerophon; with a detail of the principal events that occured in that ship, between the 24th of May and the 8th of August, 1815 . Maitland, F. L. (Frederick Lewis), Sir, 1777-1839 London, H. Colburn, 1826
DC203 .S425 1827

.

The life of Napoleon Buonaparte, Emperor of the French : with a preliminary view of the French Revolution

/ by the author of "Waverley," etc. Scott, Walter, 1771-1832 Philadelphia, Carey, Lea & Carey, 1827

C203 .H39 1828

.

The life of Napoleon Buonaparte

/ by William Hazlitt. Hazlitt, William, 1778-1830 London : Printed for Hunt and Clarke, 1828-1830

DC203 .H43 1830a

.

The life of Napoleon Buonaparte

/ by William Hazlitt. Hazlitt, William, 1778-1830 London : Effingham Wilson, 1830

DC213 .N21 1858

.

Correspondence de Napoléon

I; publiée par ordre de l'empereur Napoléon III. Napoleon I, Emperor of the French, 1769-1821 Paris, H. Plon, J. Dumaine, 1858-70

C203.2 .A575 1870zx

.

Anecdotes of Napoleon Bonaparte : his ministers, his generals, his soldiers and his times, his disinterment at St. Helena, and his second interment in France

. London : Milner, [187-?]

PQ2225 .C912 1900z

, Czech.

Bonapartův pobočník / napsal Alexander Dumas ; z frančiny přeložil Václav Petrželka. Compagnons de Jéhu

. Czech Dumas, Alexandre, 1802-1870 Petrželka, Václav Chicago : A. Geringer, [19–]

DC203.2 .F66

.

Folk-tales of Napoleon: Napoleonder from the Russian; The Napoleon of the people from the French of Honoré de Balzac

/ tr. with introduction by George Kennan. Amfiteatrov, Aleksandr, 1862-1938 New York, The Outlook Company, 1902

DC236 .R4

.

Die grosse Zeit : ein Jahrhundertbuch

/ von Theodor Rehtwisch ; mit 271 Abbildungen nach zeitgenössischen Vorlagen von Alb. Adam [et. al.] deutschen, englischen und französischen Karikaturisten u. a. m. Rehtwisch, Theodor, 1864-1912 Leipzig : G. Wigand, 1913

PR4750 .D7 1920x Botkin

.

The dynasts : an epic-drama of the war with Napoleon, in three parts, nineteen acts, and one hundred and thirty scenes, the time covered by the action being about ten years

/ by Thomas Hardy.. Time's laughingstocks New York: Harper, 1920?, c1904.

DC203 .P55 1924

.

Napoleon; being three brief essays on "the man of destiny"

/ by Charles Phillips, Robert G. Ingersoll and Hudson Maxim, with an introduction by Eugene V. Brewster. Phillips, Charles, 1787?-1859 Ingersoll, Robert Green, 1833-1899 Maxim, Hudson, 1853-1927 Brewster, Eugene V. (Eugene Valentine), 1869-1939 Brooklyn, N.Y., Brewster Publications, 1924

PQ2601.U334 M313 1927x, Botkin

.

The empress might-have-been; the love story of Marie Valevska and Napoleon

. Translated from the French by H. G. Dwight . Marie Walewska. English Aubry, Octave, 1881-1946 New York and London, Harper & brothers, 1927

PR6037.H513 S3 1934

.

St. Helena, a play in twelve scenes

/ by R. C. Sherriff and Jeanne De Casalis. Sherriff, R. C. (Robert Cedric), 1896-1975 De Casalis, Jeanne New York, Stokes [c1934]